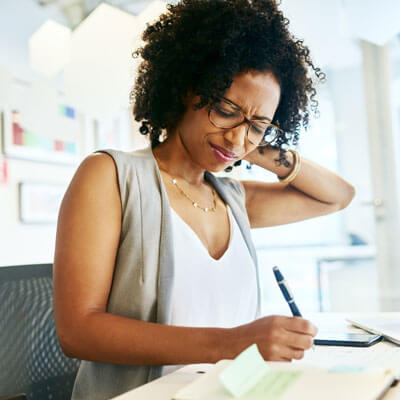 A sore neck can have a big impact on your life. You may find yourself avoiding certain activities you enjoy, such as hiking or playing tennis. Fortunately, chiropractic care is very effective at reducing and eliminating neck pain. Are you looking for a chiropractor in Peoria, IL? Contact Dr. Kelch at Absolute Wellness to schedule a consultation. Let's take a look at some of the common questions people ask regarding neck pain and pain management.
Will Neck Pain Heal on Its Own?
In some cases, neck pain may go away with enough rest. However, if your spine is out of alignment, the pain may not go away until proper alignment is restored. By straightening your spine, our chiropractor can reduce tension in your muscles and soft tissues.
Do I Need to Use Pain Medication for Pain Relief?
Hands-on treatment can provide better pain relief compared to medication, especially in the long run. Pain medications are powerful and when used properly, they can be effective. However, your body may build resistance to these medications. Furthermore, many pain medications are expensive, and in some cases, they can even be addictive.
What Other Issues Might a Sore Neck Cause?
Neck pain is rarely limited to just neck discomfort. Unfortunately, your neck issues may make it difficult to sleep and to get the rest you deserve. This could lead you to become irritable in the morning and could reduce your productivity. Neck pain can cause tension headaches. These occur when the muscles in your skull and neck exert too much pressure or are otherwise tight. Neck pain can also result in jaw pain and other health issues.
When Should I See a Chiropractor?
If you are suffering from regular neck pain, it is time to book an appointment with a chiropractor. Hands-on treatment can provide lasting pain relief. If you have recently suffered a car accident, personal injury, or something similar, it is also a good idea to seek chiropractic care. Dr. Kelch can also relieve pain in your back, shoulders, limbs, and more.