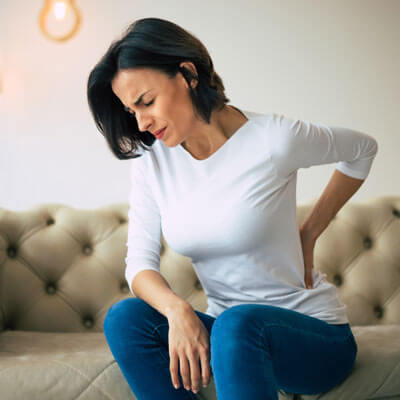 Sciatica refers to pain that travels along the path of the sciatic nerve, and the pain radiates down the leg to an extent. It's like an electric stabbing pain, and then it lessens to a pulsating burning pain, but everyone is different in how they experience that sciatic discomfort.
"When a person first experiences sciatica, it will go away, but when it comes back, it's more intense and lasts longer," said Dr. Kelch. Over time, the body gets weak and never gets fixed, so everything just gets numbed.
Prolonged pain causes stress, and pain is the alarm system going off in the body. "If pain is ignored, sciatica is harder to fix and can lead to permanent damage. Therefore, be sure to get checked by a chiropractor, who can ensure proper joint and muscle function," added Dr. Kelch.
Conventional Treatment
Medical doctors typically prescribe painkillers for sciatica. When that no longer provides relief, surgery is often recommended.
With non-surgical spinal decompression, however, we can alleviate sciatica pain safely and non-invasively. Absolute Wellness wants to be your first stop for care if you experience sciatica.
How Does It Work?
With this therapy, you will get harnessed to our computerized decompression table, which slowly and gently stretches your spine and then relaxes.
This process opens up the space between spinal bones, creating a type of "respiration" of the fluid that surrounds the joint. The damaged disc receives nourishment and gets rid of cellular waste, enhancing the healing process.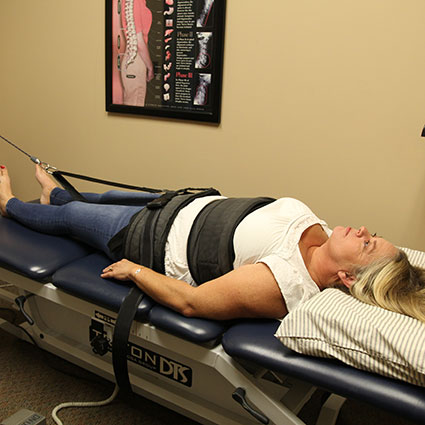 What to Expect
The first step is to come in and get checked. If you're confused about what you're feeling, whether it's sciatica or something else, we encourage you to meet with Dr. Kelch and see what the root of your problem might be. "We're usually the first or last stop where people have tried medication or physical therapy, and they end up with us and we get them better," he said.
In some cases, if the treatment doesn't work, we will refer a patient to their primary care physician for physical therapy or an MRI.
"It's important to note that spinal decompression is not a fix-all for everyone, but a step toward the correct rather than jumping into surgery," added Dr. Kelch.